In the era of unprecedented data growth and digital transformation, the Master of Science in Data Science (MSDS) program at the Asian Institute of Management equips students with the cutting-edge skills needed to rise as transformative leaders. The program's comprehensive approach ensures our students master a broad array of data science tools, methods, and predictive models, enabling them to steer data-driven decision-making processes effectively.
Our MSDS program sets itself apart by blending theory with practice. Not only do our students learn from experienced practitioners in the field, but they also gain first-hand exposure to real-world data science scenarios, serving as junior data science consultants for diverse organizations. They are uniquely positioned to devise data strategies that can propel businesses forward on their data-centric journeys, while adeptly managing data science teams.
Upon completion of the MSDS program, our graduates are primed to excel as:
> Critical Thinkers: Harnessing the power of data to drive decision-making processes.
> Practitioners: Proficiently applying data science methodologies in a wide array of contexts.
> Communicators: Articulating complex data insights clearly and compellingly.
> Ethical Team Players: Collaborating effectively and ethically within diverse teams.
The Master of Science in Data Science (MSDS) program at the Asian Institute of Management is designed to provide a comprehensive and rigorous learning experience that equips students with the skills and knowledge needed to excel in the field of data science and AI. To achieve this, the program fosters a proper fusion of technical and business skills, blending expertise in data science with essential leadership and management abilities.
Students are required to complete at least 47 course units, which encompass a variety of subjects to ensure a well-rounded education. The program structure is as follows:
Core Data Science and AI Courses
These foundational courses cover essential topics in data science and artificial intelligence, providing students with the technical skills needed to analyze data, develop models, and make data-driven decisions.
Core Business Administration Courses
Comprising nearly 25% of the course units, these courses focus on various aspects of business administration, such as innovation, leadership, communication, strategy, finance and accounting, marketing, and operations. This combination ensures that MSDS graduates possess the ability to effectively communicate insights, drive change within their organizations, and navigate the complexities of digital transformation
Elective Courses
Students have the opportunity to further specialize in their areas of interest by selecting from a wide range of elective courses. These electives allow for customization of the MSDS program, enabling students to develop expertise in specific domains or industries.

Capstone Project
The capstone project is a culmination of the MSDS program, allowing students to apply the knowledge and skills they've acquired throughout their studies to real-world problems. Working closely with data scientists, domain experts, and industry partners, students develop solutions to complex business and data science challenges, demonstrating their ability to create value and drive innovation.
CORE DATA SCIENCE and
AI COURSES
INTRODUCTION TO DATA SCIENCE AND ETHICAL AI
PROGRAMMING FOR DATA SCIENCE
MATHEMATICS FOR DATA SCIENCE
EFFECTIVE DATA VISUALIZATION & STORYTELLING
APPLIED COMPUTATIONAL STATISTICS
NETWORK SCIENCE
MACHINE LEARNING I & II
DEEP LEARNING
DATA MINING & WRANGLING I & II
BIG DATA AND CLOUD COMPUTING
CORE BUSINESS ADMINISTRATION COURSES
DESIGNING TECH-DRIVEN CORPORATE PROCESSES
INNOVATION MANAGEMENT WITH DESIGN THINKING
ECONOMICS OF STRATEGY AND MANAGEMENT
LEADERSHIP AND CHANGE MANAGEMENT
MARKETING IN THE DIGITAL ECONOMY
FINANCIAL MANAGEMENT
LANGUAGE OF BUSINESS & SUSTAINABILITY
INTRODUCTION TO IMAGE PROCESSING
ADVANCED DATA MINING
DATA ENGINEERING
TIME SERIES ANALYSIS
INNOVATING WITH DATA SCIENCE AND AI – A STUDY TOUR
INTRODUCTION TO GEOSPATIAL ANALYSIS
NATURAL LANGUAGE PROCESSING
ML OPERATIONS
COMPLEXITY SCIENCE
Discover the unique benefits of joining the Master of Science in Data Science program at the Asian Institute of Management, designed to give you a competitive edge in data science and artificial intelligence. Here are some key advantages:
Learn from AIM Faculty, Data Science Practitioners, and Industry Leaders
Our esteemed faculty members are experienced academics and accomplished professionals in data science, ensuring that your education remains relevant and applicable to current industry demands.
Apply Skills on Live Projects and External Consulting Engagements
Gain practical experience and build a strong portfolio by working on real-world projects, case studies, and consulting engagements with industry partners. This hands-on approach enhances your technical expertise and prepares you for success in the professional world.


Connect With Over 200 MSDS Alumni & the Rest of the 45,000 AIM Alumni




Join an extensive network of MSDS graduates and AIM alumni who are making a significant impact in various industries across the globe. Leverage these connections to open doors to new opportunities and expand your professional reach.



Customize Your Learning Journey with Elective Courses
Tailor your education to suit your interests and career goals by choosing from a range of elective subjects that focus on specialized areas within data science and artificial intelligence.

Collaborate in the State-of-the-Art ACCeSs Laboratory
Work with our cutting-edge Analytics, Computing, and Complex Systems (ACCeSs) laboratory, where you can access advanced tools and resources like Super Jojie—the fastest AI supercomputer in the Philippines, and collaborate with fellow students, ACCeSs data scientists, faculty, and industry partners on innovative projects.

Develop Essential Leadership and Communication Skills
In addition to technical proficiency, our program emphasizes the development of leadership, communication, and management skills, preparing you to become a well-rounded data scientist who can effectively lead teams and foster data-driven decision-making in your organization.
Benefit from Strong Industry Partnerships
Our program's close ties with leading companies and organizations provide valuable opportunities for internships, networking events, guest lectures, and collaborative projects, ensuring you are exposed to the latest trends and real-world challenges in the data science field.

At the Asian Institute of Management, we understand that our students come from diverse backgrounds and have varying needs. That's why we offer two flexible study options for our Master of Science in Data Science (MSDS) program, designed to accommodate your unique lifestyle and aspirations as you work towards becoming a data scientist or data science leader. In both options, you can expect lively and immersive interactions and access to AIM facilities, ensuring a dynamic and engaging learning experience.
OPTION 1: FULL-TIME (15 MONTHS)
> Fully face-to-face learning experience: Immerse yourself in an engaging and interactive learning environment, where you can build strong connections with your classmates and faculty.
> Greater campus engagement: Interact with students from other programs whenever you are on campus, enriching your graduate student experience and expanding your network beyond the MSDS program.
> Ideal for students who can dedicate their full attention to the program and want to complete their degree in a shorter timeframe.
OPTION 1: PART-TIME (24 MONTHS)
> Blended learning experience: Enjoy the flexibility of a hybrid program that combines online weeknight classes with in-person Saturday classes, allowing you to balance work, studies, and personal commitments.
> Online course delivery: Engage in high-quality online learning during weeknights, giving you the opportunity to learn from anywhere and fit classes into your busy schedule.
> In-person Saturday classes: Connect with your peers and faculty during in-person sessions on Saturdays, providing a valuable opportunity to network, collaborate, and develop strong relationships.
> Ideal for working professionals who want to further their education while maintaining their current job and responsibilities.
CAPSTONE PROJECTS with REAL-WORLD USE CASES
The MSDS capstone project is a distinctive and pivotal component of the program, immersing students in real-world challenges that demand innovative solutions. This six-unit capstone experience places students at the forefront of live projects with private and public organizations, empowering them to create groundbreaking, data-driven solutions for complex, real-world problems.
Our methodology extends beyond the traditional model-building approach. Here, students are guided through the entire data science project workflow, from crafting compelling project proposals to extracting and analyzing data, and ultimately designing and deploying AI models that make a meaningful impact.
Throughout the capstone project, students receive close mentoring and coaching from AIM professors and data scientists at AIM's Analytics, Computing, and Complex Systems lab (ACCeSs). These mentors, who serve as primary and secondary advisors for each team, ensure that our students acquire the skills, expertise, and confidence needed to thrive in the rapidly evolving field of data science.
Since 2019, the MSDS program and ACCeSs have successfully completed over 65 projects across diverse sectors, delivering significant business, economic, and social value. With an estimated potential ROI of ₱4.7 B or approximately US$ 85 million—and additional socio-economic impact from policy-related projects—our MSDS capstone projects demonstrate the transformative power of data science and highlight the impressive capabilities of our graduates.
THE CAPSTONE PROJECT PROCESS
Industry, government, and/or international organizations submit use cases to MSDS program. 
A call for proposals from students is opened.
Interested student teams submit proposals. 
Stakeholders and data scientists review the proposals. 
A project is awarded to teams; this will be the research topic of students.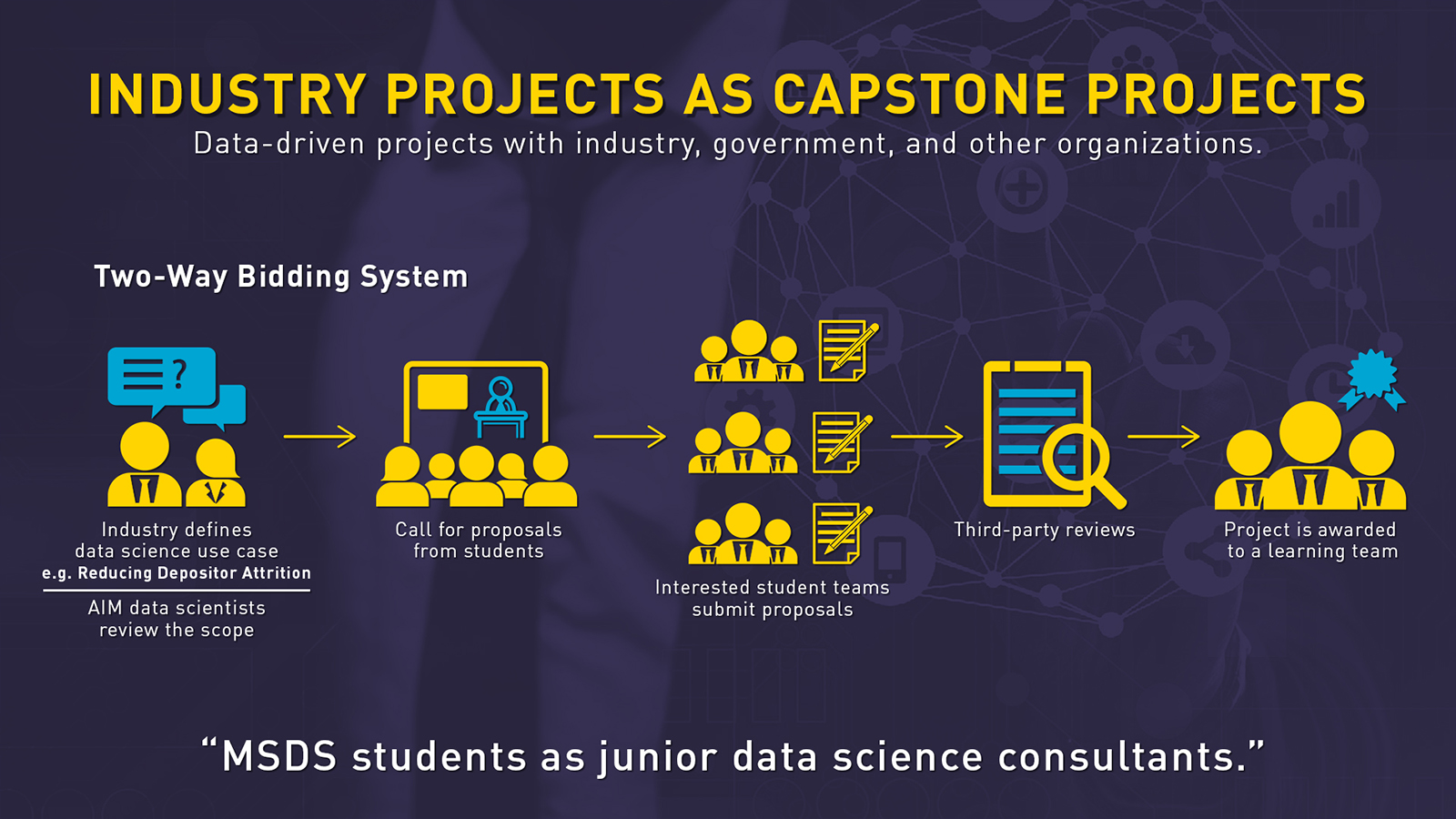 Capstone Industry Partners' Interview