To fully adapt in this era of big data and digitization, the Master of Science in Data Science (MSDS) program trains its students to be innovative data-driven leaders who can meet the demands and needs of various global institutions. 
Through the MSDS' holistic approach, students are exposed to different data science tools and methods and are taught various algorithms and models to make predictive analysis and derive data-driven decisions. They also learn from practitioners in the field especially in building data strategies to help jumpstart organizations in their data-driven journeys and in managing data science teams.  MSDS students also engage with different organizations to work on real-world data science use-cases as junior data science consultants.  
By the end of the program, MSDS students will become:  
Critical data-driven thinkers and decision-makers.
Data Science practitioners
Effective communicators
Ethical and effective team players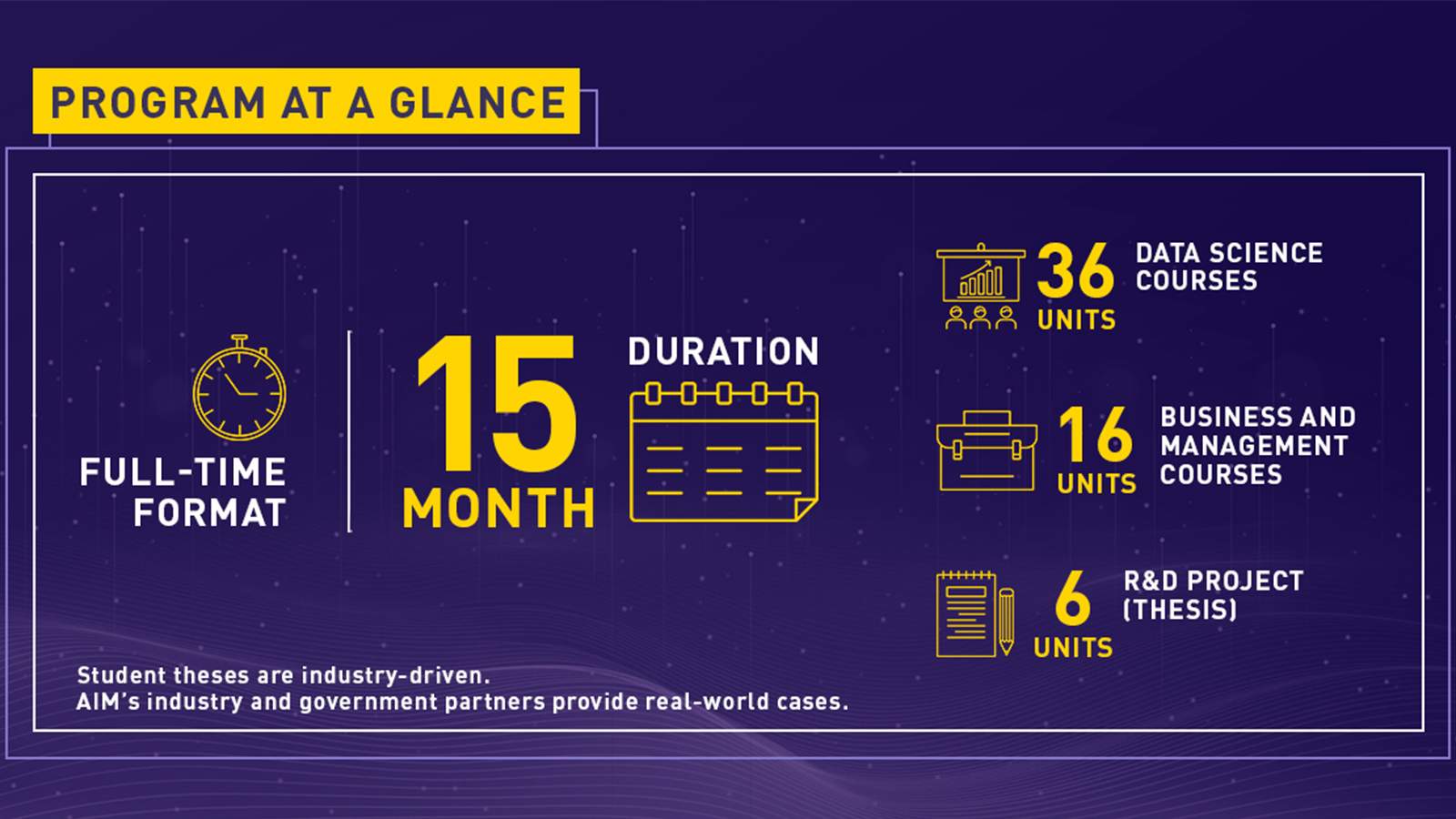 Notable positions of MSDS Graduates:
Lead Data Scientist/ Data Scientist

 

Risk Data Scientist

 

VP for Digital Solutions and Platforms

 

Digital Transformation Principal

 

Senior AVP for Strategic Initiatives Group

 

Corporate Strategy Manager

 

Product Analytics Manager

 

Emerging Technology Engineer (AI and ML)

 

Research Team Lead

 

Data Science Consultant

 
The MSDS program curriculum has a total of 52 units, exhibiting a proper fusion of technical (data science and computing) courses and general business and management courses.
FIRST TERM
(Jul 2022 – Sep 2022)
Mathematics for Data Science

 

Programming for Data Science

 

Data Viz and Storytelling

 

Introduction to Data Science

 

Management Communication

s
SECOND TERM
(Sep 2022 – Dec 2022)
Data Mining and Wrangling

 

Applied Computational Statistics

 

Machine 

Learning

 I

 

Human Behavior in Organizations 

Marketing in the Digital Economy

Business Economics

 
THIRD TERM
(Jan 2023 – Apr 2023)
Innovation

  Management with Design Thinking

Electives
FOURTH TERM
(Apr 2023 – Jul 2023)
Machine Learning III

 

Big Data and Cloud Computing

 

Capstone (in progress)

 
Negotiating Change 

Operations Management

 

Electives
FIFTH TERM
(Jul 2023 – Sep 2023)
Network Science

AI Ethics
Capstone
Strategic Management
Managing for Sustainable Development Impact

 

Electives
Complexity Science

 

Advanced Data Mining

 

Introduction to Geospatial Analysis 

 

Natural Language Processing

 

Time Series Analysis

 

Data Engineering

 

Introduction to Image Processing

 

Data Applications (Web)

 
*Curriculum details may be subject to change.
CAPSTONE PROJECTS with REAL-WORLD USE CASES
The MSDS capstone project is one of the key features of the program that makes it quite unique compared to other data science programs. It is a culminating activity where our students take on projects (real-world problems) from various companies, organizations, and government agencies for which there are no existing solutions.
Here, students don't just jump straight into model building; instead, they go through the entire data science project workflow – from writing project proposals, to data extraction, data mining, and building AI models, to model/platform deployment.
In this exercise, MSDS students are trained as data science consultants; as part of their training, they work closely with world-class professors, full-time data scientists at ACCeSs@AIM, and domain experts.
THE CAPSTONE PROJECT PROCESS
industry, government, and/or international organizations submit use cases to MSDS program. 
A call for proposals from students is opened. 
Interested student team submits proposals. 
Stakeholders and data scientists review the proposals. 
A project is awarded to teams; this will be the research topic of students.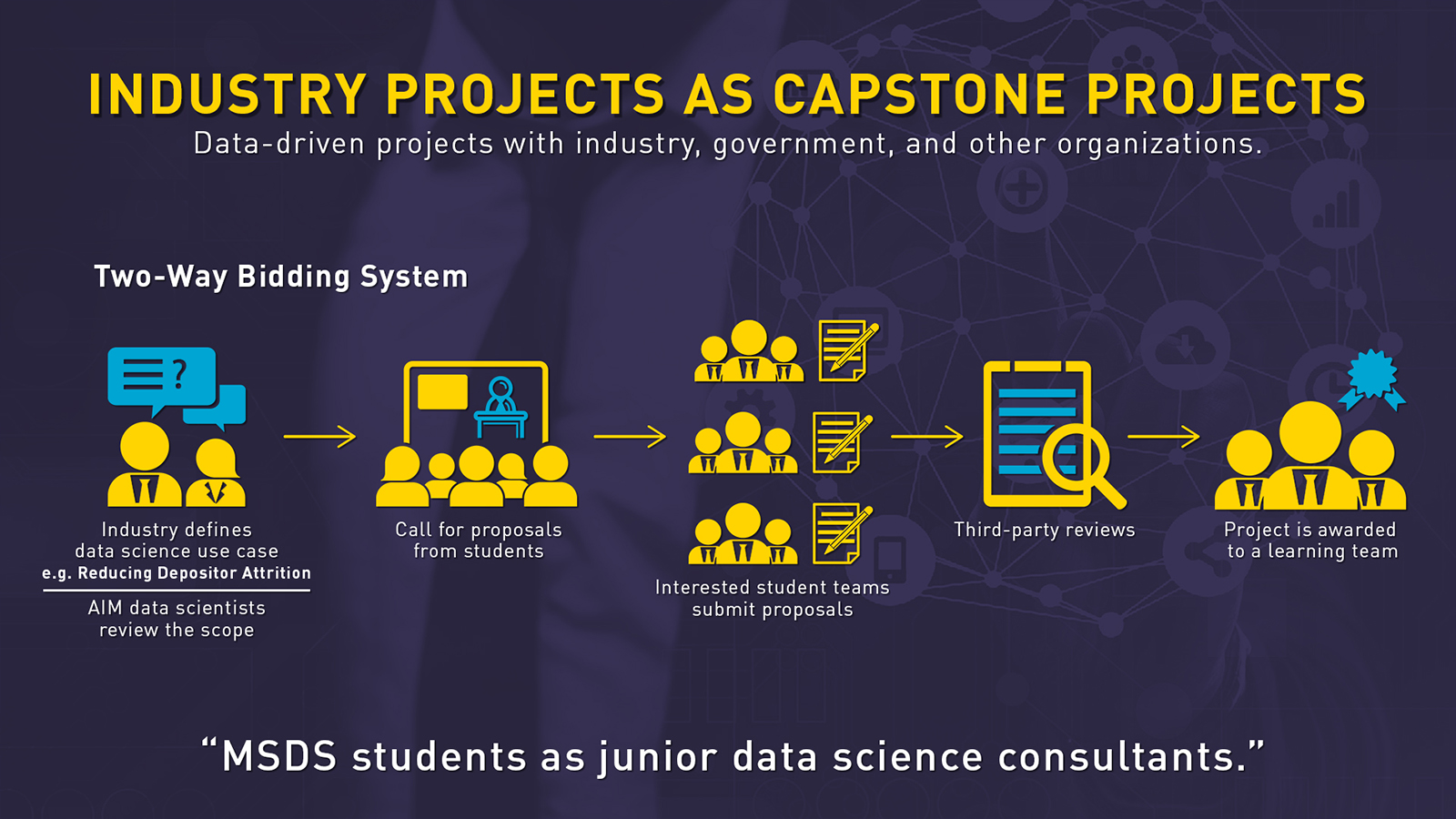 The Outcome: Real Business Value Generated
In 2020, the MSDS program received over 25 real-world use cases from various organizations and enterprises, 15 of which made it to the program portfolio. Partners and stakeholders estimated a total potential revenue of about US $40 million from these projects.  
In 2019, this estimate was at US $10 million for 10 capstone projects. Indeed, through the program's partnerships, MSDS students become data science consultants even while studying; at the same time, the program gets to help organizations innovate through data science and machine learning.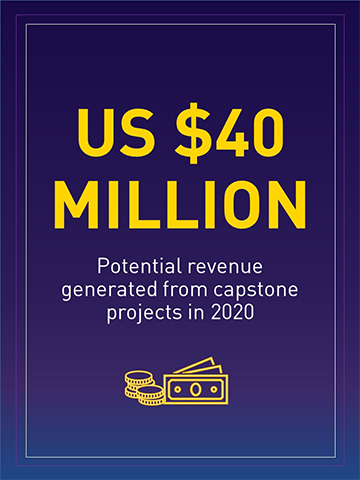 Capstone Industry Partners' Interview