THE INNOVATION JOURNEY WITH MIB
The Master in Innovation and Business (MIB) curriculum will allow students to take advantage of the opportunities offered by Fourth Industrial Revolution (IR 4.0). The MIB program aims to prepare and provide the students not only with the knowledge and understanding of the technologies but also the skills to become a start-up entrepreneur or a corporate innovator.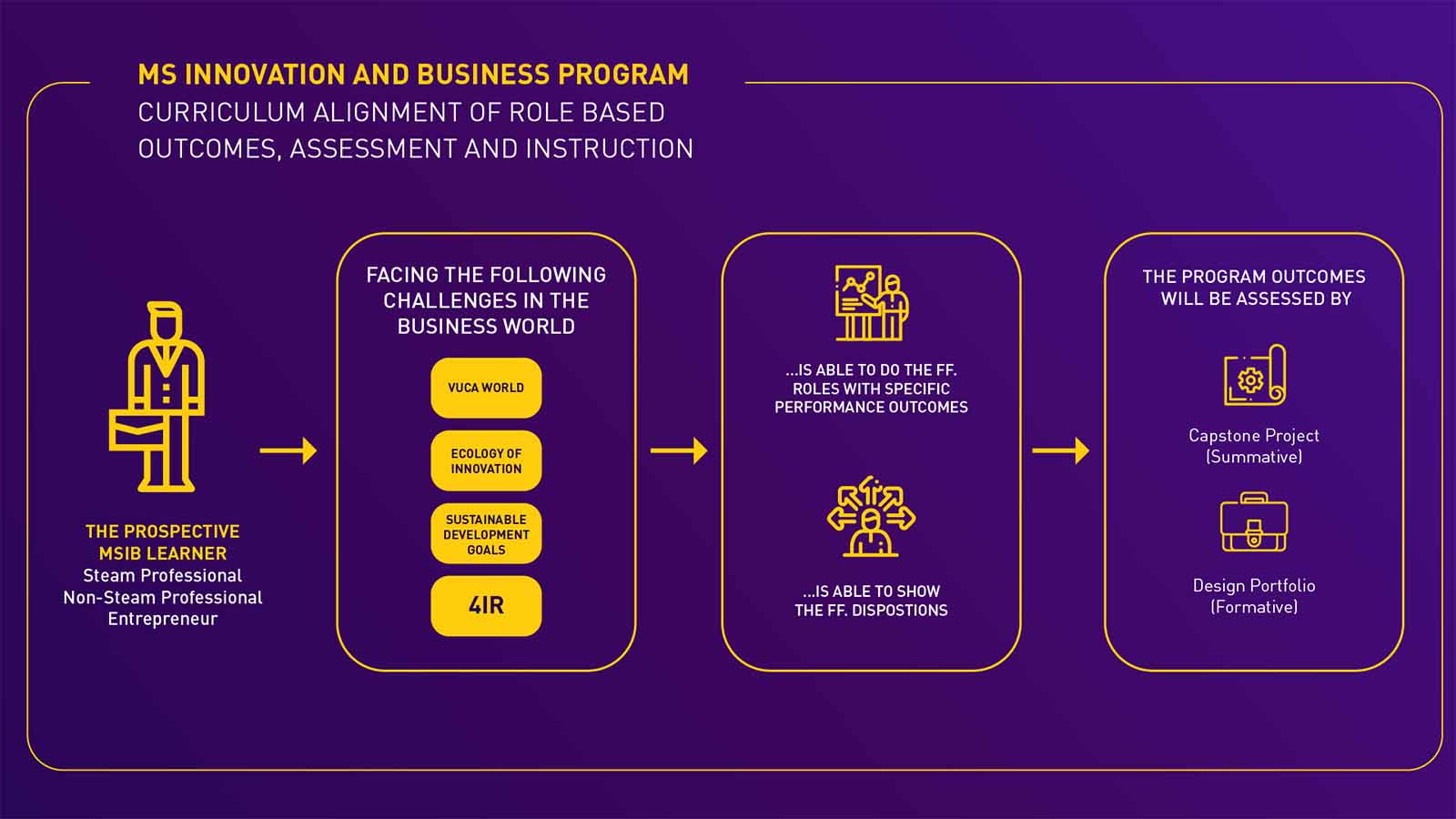 While enrolled in the program, students will encounter the technological systems evident within the biological, physical, and digital spheres. These systems will be part of the courses that will develop the students as the next trend forecaster, change manager, innovation architect, pitch person, networker, and influencer. 
INNOVATION LECTURE SERIES 
One of the courses in the program is the Innovation Lecture Series (ILS), which will provide the students with a clear roadmap for their respective innovation journeys and capstone projects. Innovation and business, when combined, can develop the ability to tackle problems creatively, generate new ideas, take calculated risks, and create change.  
Learn from experts from different areas including, but not limited to:
Alternative Logic to Innovation
Business Landscape and Intellectual Property Strategy (BLIPS)
Collaboration and Teams
Creative Innovation
Cybersecurity and Blockchain Data Mining and Wrangling 
Disaster Risk Management
Fintech
Futures Thinking
Project Management
Prototyping
Research and Patents
Resilience Planning
Songwriting
Sustainability
Virtual Reality, Molecular, and Cellular Medicine 
 TECHNOPRENEURSHIP
Another unique feature of the MIB program is the Technopreneurship course. The course features founders of different international companies as they discuss the entrepreneurial flair and technology-centric vision their companies uphold as leading global brands. Previous MIB students were able to interact with prominent tech leaders like Stan Shih, Founder of Acer Inc.  
Students are able understand how technology-based solutions can solve economic and socially oriented problems, especially in the Asian context. Additionally, MIB students are exposed to the challenges of operating in a global business setting. 
THE INNOVATION JOURNEY AS A CAPSTONE PROJECT

The MIB Capstone Project spans in three phases during the five terms. With the students working on a product, process, or service, they can bring it to market during the Insighting phase. They can then prototype it during the Ideating phase. Finally, at the Implementing stage, a specific business plan of the product, process, or service is pitched to potential investors on Demo Day.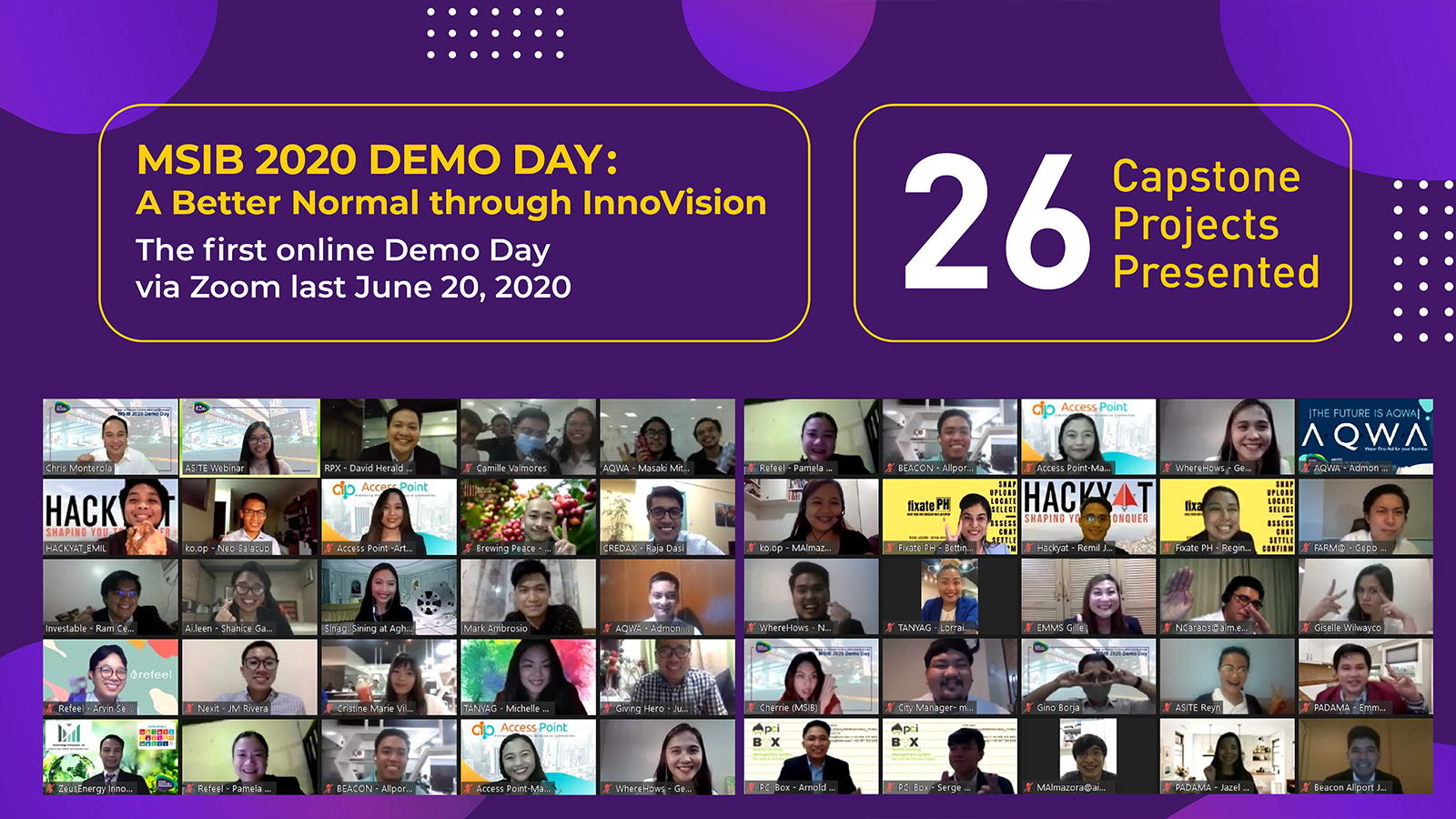 MIB students are encouraged to participate in local and international competitions and hackathons. The invaluable experience of joining these competitions will strengthen the skills the innovators need to become effective in designing innovations, pitching the products, process, and services, and networking with potential investors, clients, and consumers.
Some of the competitions MIB graduates have won and received citations and prizes from, including the world's largest innovation consulting competition, include:
Alibaba Get Global Challenge
Cerebro Labs
Ideaspace
IXL Innovation Olympics
IYFI Singapore
Rappler Talk
UN Sustainable Development Challenge
United Nations Global Compact Breakthrough Innovation Challenge
Youth Co-Lab