Here at AIM, we make sure that students hit the ground running as soon as they complete their MBA program.  
For more than half a century, the MBA program continues to produce sharp, forward-thinking graduates who have become eminent and influential business leaders within Asia and in other parts of the world. 
AIM MBA students are constantly challenged to be critical, analytical, innovative, and collaborative as they go through more than 300 real-world business cases in a rigorous curriculum that covers economics, finance and accounting, marketing, operations, leadership, and strategy. 
The professors, mostly business practitioners, facilitate case discussions to train students to make informed decisions, and formulate judicious strategies and action plans. Students will also be assigned to real-world cases through consulting projects, allowing them to integrate what they've learned in the case rooms into real-world business scenarios. 
This dynamic transforms students to become tough-minded and action-oriented managers who are ready to lead their organizations to new heights.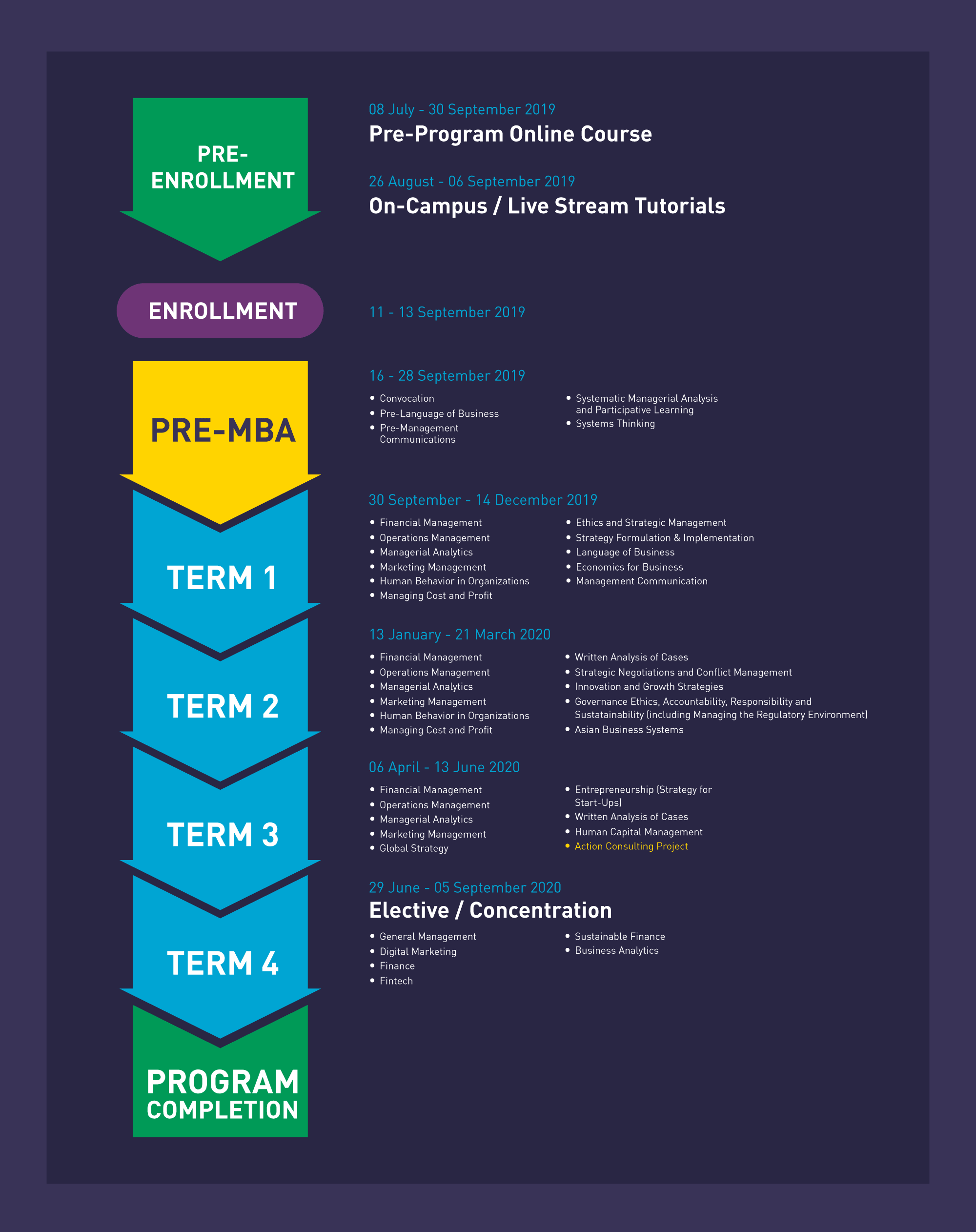 To fill the gap between the students' previous studies and the years spent away from the academe, students take preparatory courses at the start of the program.
The Pre-MBA ease students into the pace and demands of the program by refreshing their knowledge of basic management concepts, introducing them to the dynamics of the case method and exposing them to different frameworks and strategies that would help them synthesize and analyze information quickly and effectively.
Classes for the core subjects begin midway through the Pre-MBA sessions. From terms 1 to 3, the core curriculum consists of courses in the areas of accounting, economics, finance, human resource, leadership, marketing, operations and strategy.
In term 4, the program gives students the opportunity to personalize their learning experience. Choosing from a diverse selection of elective courses, students have an option to either broaden their perspective across multiple disciplines or concentrate towards earning a specialization.